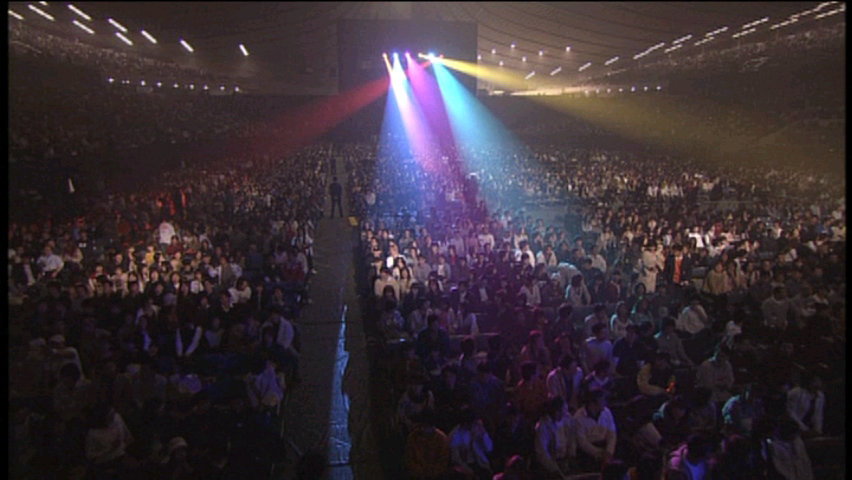 Are You ready to see BoA - 1ST LIVE TOUR 2003 ~VALENTI~ DVD REVIEW?
Now You can be one of those audiences in this BoA's 1st LIVE TOUR!!!



SPECIAL THANKS TO 'MITSUHIRO SATO'

Format

16:9 Letterboxed, MPEG-2
PCM Stereo, NTSC, Color

Language

Japanese

Subtitle

None

Time

94min

Code

2


001. INTRODUCTION
002. LIVE OPENING
003. LISTEN TO MY HEART
004. BESIDE YOU -僕を呼ぶ声-
005. 気持ちはつたわる
006. 奇蹟
007. flower
008. B.I.O
009. Searching for truth
010. PRERUDE TO JEWEL SONG
011. JEWEL SONG
012. 世界の片隅で
013. BAND INTRODUCTION
014. POWER
015. Nobody but you
016. DANCER INTRODUCTION
017. Amazing kiss
018. NO.1
019. VALENTI
020. ID;Peace B
021. Shine We Are!
022. Every Heart -ミンナノキモチ-
Package & Design



1/2 from





Booklet (28 pages)
DVD comes with 28page booklet.
Just like 8 films & more DVD.
Small and long size book.

It includes lyrics to all the songs.
And few information about LIVE TOUR.
Screen Design


from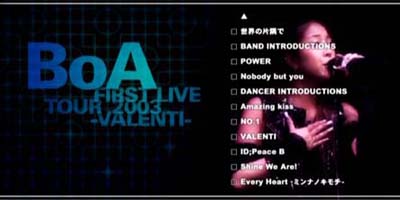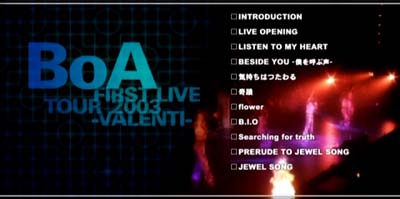 screen design is really poor. There is no main index. Tracks chapter only.

Video




from






There are total three bigger screenshots. They are pictures captured as the highest solution. So u can check video quality of this DVD.
from LISTEN TO MY HEART
On the screen, black shadow appears, audiences go crazy. and BoA appears, shouting "TOKYO!"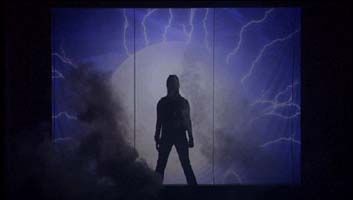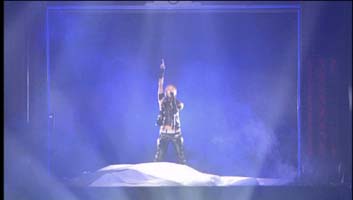 from BESIDE YOU
BESIDE YOU is double-title song of BoA's 8th single. JEWEL SONG/BESIDE YOU.
Since BoA sang only JEWEL SONG on the TV, This is the one and only live version of BESIDE YOU.
She sings, wearing black leather clothe. Powerful dance performance is really worth watching.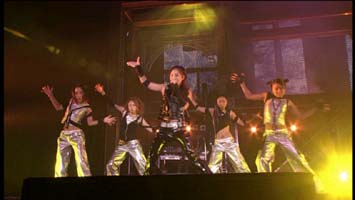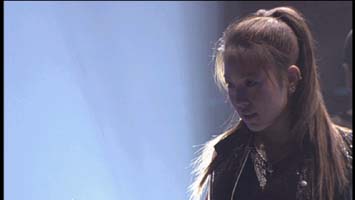 from B.I.O & Searching for truth
Maybe Searching for truth shows the best performance among all the songs.
She was clothed in chinese style dress. and dances behind screen.
Audiences can see her image on the screen. and she suddenly appears with new dress.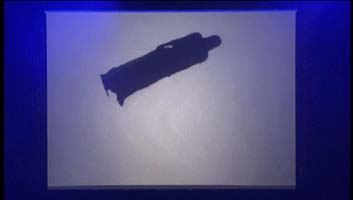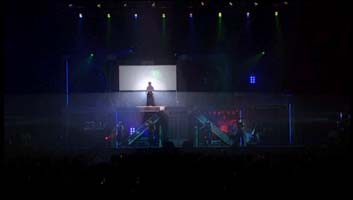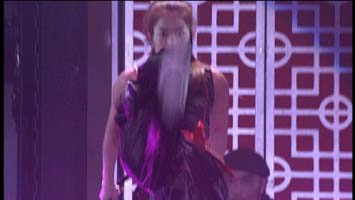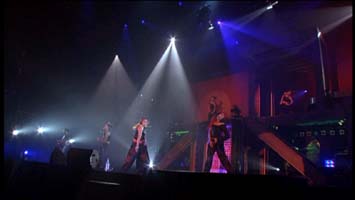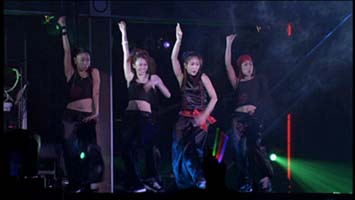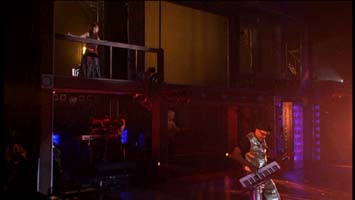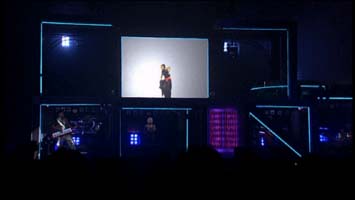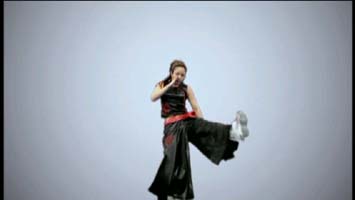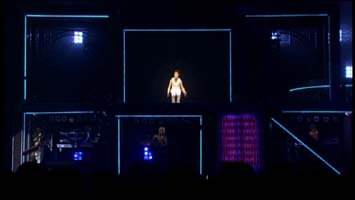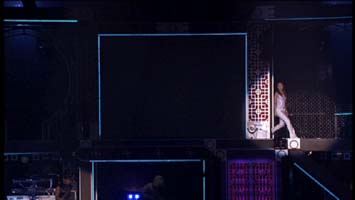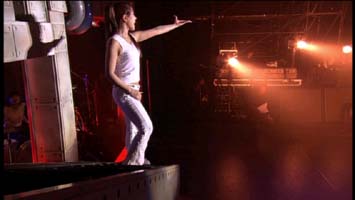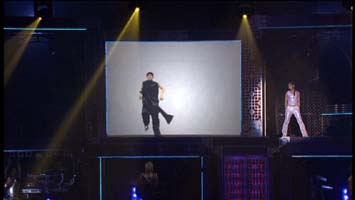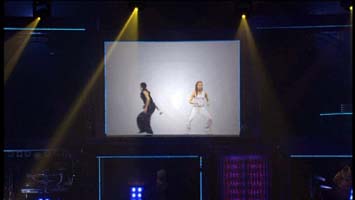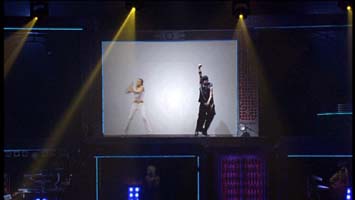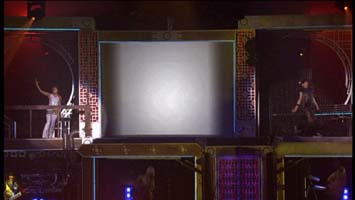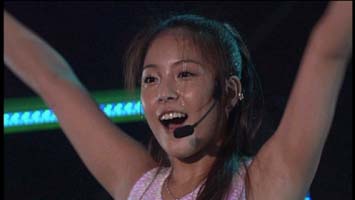 from JEWEL SONG
BoA's white dress looks nice, but Unbecoming to BoA. anyway she sings so well, sweating.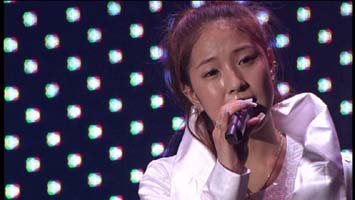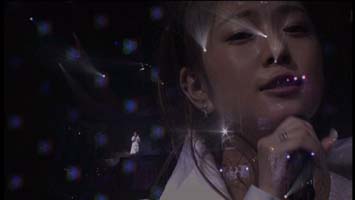 BAND INTRODUCTION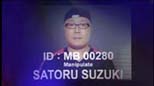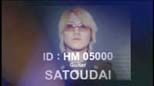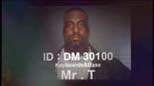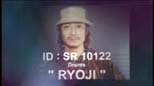 from POWER & Nobody but you
Yeah! BoA tries ROCKER here! Pretty cute. Look at the 4th pic, BoA is pretending guitarist.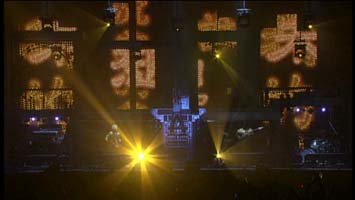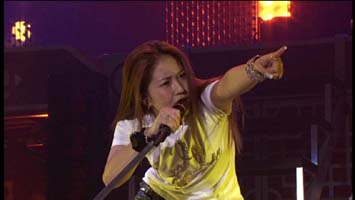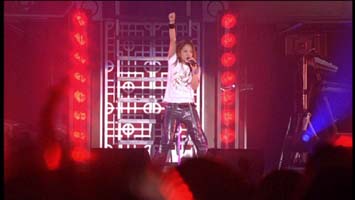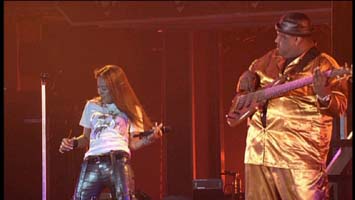 from Amazing Kiss
Moon and shining stars appear in the screen. What is the suitable song for these? Yes!
Amazing Kiss! This was very good.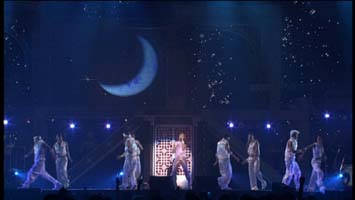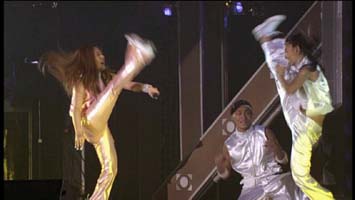 from NO.1
She doesn't dance at all, singing NO.1. She tries to become ONE with audiences.
keeping clapping of hands over her head.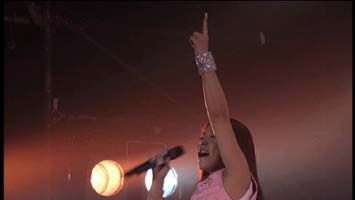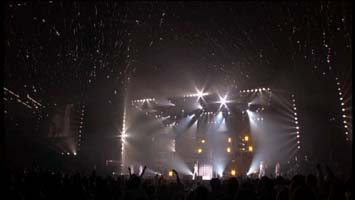 from VALENTI
BoA lifts up audiences fever to the top with VALENTI. Nice performance and vocal.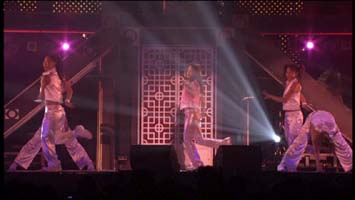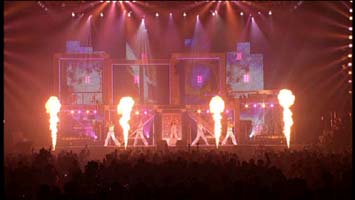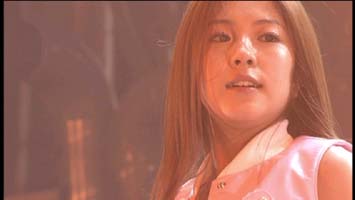 from ID; Peace B (Ancore)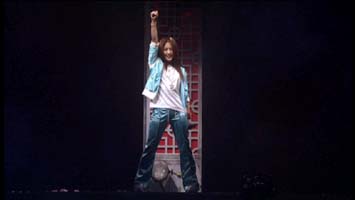 from ENDING
She introduces all the staff as well as SAM-sang. (Ex-husband of Namie Amuro)
and finally she cries. Tears of Happiness. Yes BoA! U did good job here!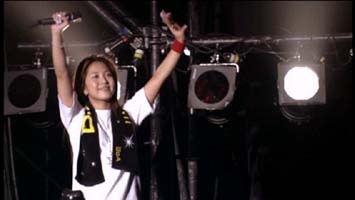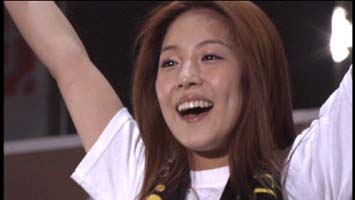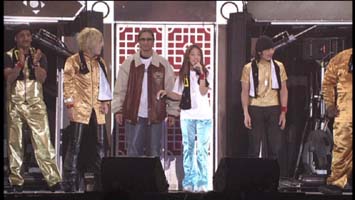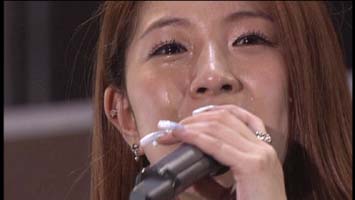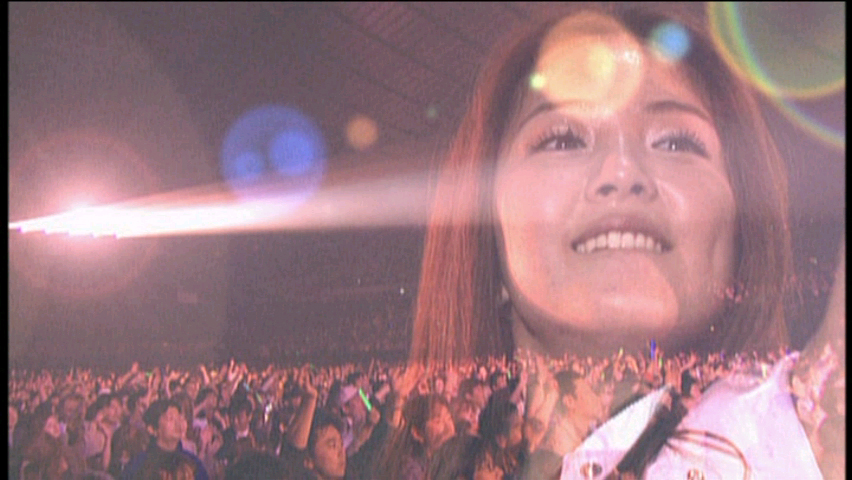 Result




from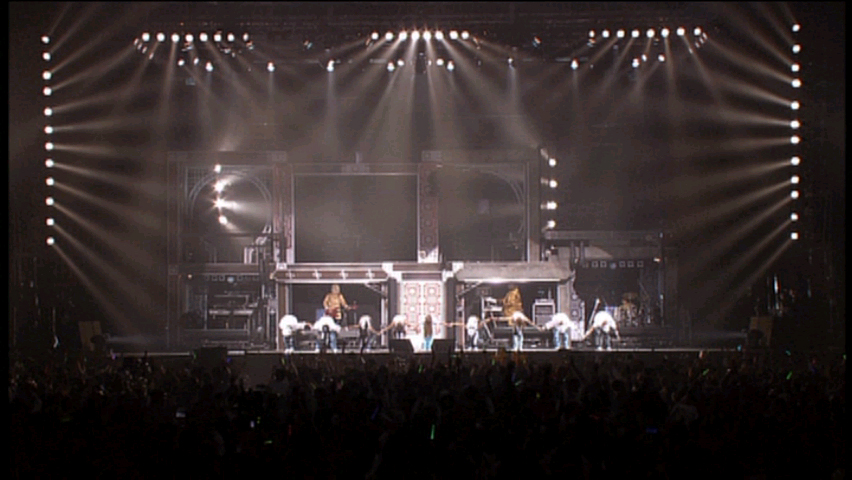 DVD ends with BoA's speech. Well BoA fans must get this one, regarding this is BoA's very first live concert.
But as a DVD, Cannot give more stars. as marks, It is worth as 4 stars. During concerts, There were two special guest songs.
Winding Road feat. DABO (from VALENTI album), and another one was Holiday (PALM DRIVE feat. BoA).
PALM DRIVE feat. BoA - Holiday, this song was sung on Music Station only one time before.
But Winding Road with DABO-sang has never been sung as Live. So when this song was sung with DABO-sang from this concert.
It was very pleasant news for BoA fans before. But Avex didn't include these two songs.
At least, as Bonustrack just like 8 films & more, they could insert only one among those two songs.
This is one of dissapointing point from this DVD. and screen design. Except these, This DVD is almost perfect.
| | |
| --- | --- |
| mini link : | |