IWAI SHUNJI PROFILE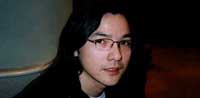 일본, 센다이시 1963년 1월 24일태생, 물병자리, O형.
1987년 요코하마대 졸업.
---
Shunji Iwai Profile
(copied ENGLISH profile from Swallowtail web)

Born January 24th, 1963 in Sendai City, Japan,
Aquarious, Blood type:O+
Graduated from Natinal Univ.Yokohama in 1987

Shunji Iwai began his career in 1988, directing music videos and CATV programs.
Through the subsequent years, he vigorously wrote and directed numerous television dramas like
"Ghost Soup" and "Lunatic Love", video clips and commercial films,
soon earning high reputation for his distinctive visual style.
He was awarded Best New Comer of the Japanese Film Director's Association
for his television drama "Fireworks, Should We See It From the Side or the Bottom?"(1993),
although he was yet to debut as a theatrical director.

Then he launched to the film industry.
After the success of short films "undo" and "PiCNic",
he presented his first feature-length film" Love Letter" for theatre in March 1995.
And it became a long run hit for three months, and got so many film prizes.
In summer of 95 after the release of "Love Letter", "undo"
and "Fireworks, Should We See It From the Side or the Bottom?"
were re-released in theatre as a double bill to a record-breaking success.

"PiCNiC" and "Fried Dragon Fish" followed suit in 1996.
Iwai then wrote and directed his second feature "Swallowtail Butterfly"(1996),
a success story set in the virtual city of Yen Town.
He teamed up with the well-known producer of rock group Mr. Children, Takeshi Kobayashi,
who composed the music for the film, as well as producing Yen Town Band
and it's mega hit title track sung by Chara.
Hailed as one of the most prominent of the '90s,
They showed us the great collaborations of visual and music.

In 1998 he presented "April story" with beautiful pictures like free hand drawings.
And in 1999 he produced and directed the original video and DVD
"Kids wanted to see fireworks from another side" that identify the sixth year of "fireworks".

Now he is getting ready for the new project in 2000.
ye seule's
IWAI SHUNJI (이와이 슈운지)
world