U're in Main Index -> Yeseule's LEE JUNG HYUN Planet ->
Yeseule's LEE JUNG HYUN 1st Album Review
1st Album 'Let's Go To My Star'

Debut promo song : WA (Megahit No.1 a few weeks)

Wa is a megahit k-pop techno dance song. Everybody in korea knows this famous song by Lee Jung Hyun. Remade in China, as well as in Italy. Saifam artist BANDIDO copied this song and was on the top of German dancemusic chart.
Lee jung hyun's finger mike and fan with BIG EYE were very unique. and her sensational performance was an issue.
In the MV, She is an alien and also oriental goddess. and Lee jung hyun's rap was very powerful unlike other female singers. Most of female singers try to sing girlishly, but lee jung hyun didn't.

There was a rumour that she might be shaman or something like that. Because of her strong charisma.

Anyway this song is one of the most popular k-pop in k-pop history.
No.1 during two weeks on SBS Ingigayo as well as MBC Music Bank.

Wa Music Video (Captured by Yeseule)
---

from Music Video

2nd promo song : Baggwo (Megahit No.1)

Baggwo means CHANGE. This song was also megahit track from her debut album. Also No.1 on the chart.
In MV, she is mermaid with sharp eyes, she eats fish in this music video.
But on stage of music program on TV, she sang, dressed as cyber warrior. Her stage was always sensational.

This song has strong message.
Shocking lyrics unlike other k-pop love songs.
Korean assemblymen used this lyric for their own promotion song. at that time, Lee jung hyun said "How dare they could use my lyric, they are just people who has to live in the old history."
anyway she sings with very cynical lyric here.
After making a hot shot debut at 9 when it was released. No.1 on SBS Ingigayo. one week.


from Live Stage
Everybody goes crazy. Whom we can trust? how we can trust? Cannot trust no more! who is cursing whom?!
If u can, how clean you are? You, and me, everybody is just a dirty trash in this world.
Why one woman's past matters? Everything's been changed. Don't look at me as previous me. It is too late although you regret.

Change! Change! Change! change everything......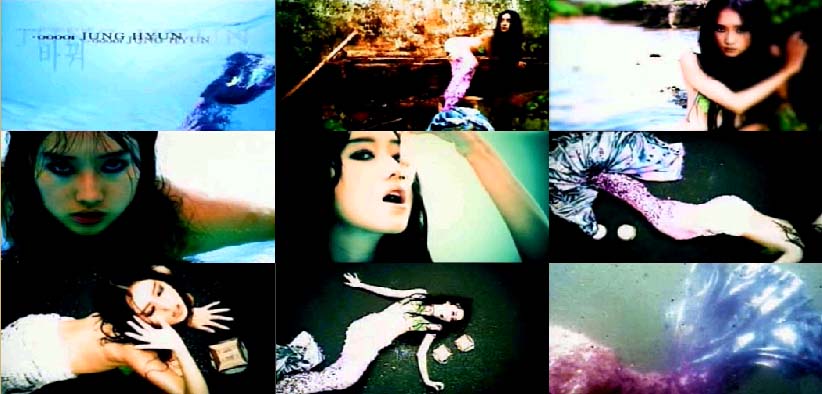 Baggwo Music Video (Captured by Yeseule)