MERRY CHRISTMAS, MR LAWRENCE LYRICS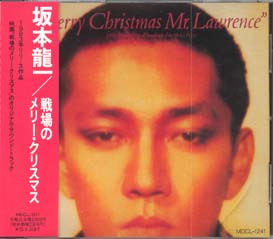 1. Merry Christmas, Mr. Lawrence
2. Batavia
3. Germination
4. A Hearty Breakfast
5. Before The War
6. The Seed And The Sower
7. A Brief Encounter
8. Ride, Ride, Ride (Celliers' Brother's Song) (lyrics)
9. The Fight
10. Father Christmas
11. Assembly
12. Beyond Reason
13. Sowing The Seed
14. 23rd Psalm (lyrics)
15. Last Regrets
16. Ride, Ride, Ride (Reprise)
17. The Seed
18. Forbidden Colours (lyrics)
Ride, Ride, Ride (Celliers' Brother's Song)
Ride, ride through the day.
Ride through the moonlight.
Ride ride through the night.
For far in the distance
Burns the fire
for someone
who has waitied long.
23rd Psalm
The Lord's my sheperd.
I'll not want
He makes me down to lie
In pastures green he leadeth me
The quiet waters by
My soul he doth restore again
And me to walk doth make
Within the paths of righteousness
E'en his own name's sake
Yet though
I walk through death's dark vale
Yet will I fear no ill
For thou art with me and thy rod
And staff me comfort still
My table thou has furnished
In presence of my foes
My head thou does with oil anoint
And my cup overflows
Forbidden Colours(by david sylvian)
David Sylvian, best known as leader of the popular U.K. rock band Japan,
and for his work with King Crimson founder Robert Fripp, Ryuichi Sakamoto and his solo work.
The wounds on your hands never seem to heal
I thought all I needed was to believe
Here am I, a lifetime away from you
The blood of Christ, or the beat of my heart
My love wears Forbidden colours
My life believes (in you once again)
Senseless years thunder by
Millions are willing to give their lives for you
Does nothing live on?
Learning to cope with feelings aroused in me
My hands in the soil, buried inside of myself
My love wears Forbidden colours
My life believes (in you once again)
I'll go walking in circles
While doubting the very ground beneath me
Trying to show unquestioning faith in everything
Here am I, a lifetime away from you
The blood of Christ, or the beat of my heart
My love wears Forbidden colours
My life believes (in you once again)
yeseule's
MERRY CHRISTMAS, MR LAWRENCE