welcome to ye seule's
SILENCE OF THE LAMBS (양들의 침묵)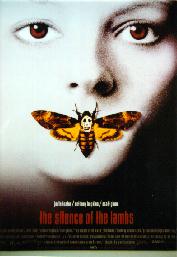 슬이가 최초로 열광했던 영화! 최초로 배우들의 연기가 뭔지 알게 해줬던 영화!
광기로 번뜩이는 안쏘니 홉킨스와 지적이미지의 정수 조디 포스터의 연기가 불꽃튀던 그 순간들.
그리고 너무나 빈틈없이 완벽한 연출의 조나단 드미.
호러와 드릴러란 장르속에서 이렇게 치밀하며 믿지 않을 수 없도록 유도하는 작품은 볼 수 없었어요.

잭 크로포드는 클라리스를
어떻게 생각할까? 부성애속의 러브?

 

 


가장 멋있던 순간!

 

 


플럼 아일랜드! 렉터는
의외로 클라리스의 잔꾀에 넘어간다.

 

 


가장 직접적인 살인씬!
그는 살인후 바흐의 곡에 리듬을 탄다.

 

 

고통을 사랑하라!
열심히 연습중인 클라리스.

 

 


가장 매력적인 악역!
세기말의 사탄!
그러나 관객은 동정심에 말린다.

 


희귀사진. 상원의원의 딸 캐더린의
가죽이 벗겨지기전에 구출해낸다면... 그러나 렉터는 만만한 상대가 아니다.

 


희귀사진, 무참히 가죽이 벗겨진 여인들을 바라보는 중

 

tribute site of one of most scary movie all time.
yes! THE SILENCE OF THE LAMBS!
I think this movie is one of most important horror movie
with PSYCHO (psychopath horror), TEXASS CHAINSAW MASSACRE(splatter),
SHINING!
so enjoy this horror energy!
---
슬이가 존경해마지 않는 조디온니! *(>v<)*
양들의 침묵속의 클라리스 스탈링은 한때 슬이의
우상였져요~

I really like JODIE's character in this movie.
her name is CLARICE STARLING!
strong, smart at the same time very sexy!

I really like JODIE FOSTER.
I think such a smart woman.
perfect actress in hollywood I think.

copied from HANNIBAL LECTER's page
---
Collection
U.S.A LASERDISC

 

first movie laserdisc ye seule bought.
ye seule used well this caption subtitle in this laserdisc.
CRITERION COLLECTION LASERDISC

this item is cool! cool!! double jacket includes many photos and review!
and have very intersting supplement!
Supplements: Audio commentary by ' Jonathan Demme' (qv),
Jodie Foster, Anthony Hopkins, screenwriter Ted Tally, and FBI agent John Douglas,
deleted scenes, a film-to-storyboard comparison, storyboards, and production stills.
These are followed by filmographies on Demme, Hopkins, and Foster.
Pauline Kael apparently hosts the Demme filmography.
Finally there are 8 chapters of FBI material on serial killers.
Featuring several profiles such as Organized sexual homicide and so on.
THX!!
highly recomended!
CRITERION COLLECTION DVD

Edition Details:

Region 1 encoding (for use in US and Canada only)

Color, Dolby, Widescreen, HiFi Sound, Digital Sound

Commentary by director Jonathan Demme, stars Jodie Foster and Anthony Hopkins,
screenwriter Ted Tally, and FBI agent John Douglas

Deleted scenes not in the original

Deleted scenes

Seven deleted scenes

Film-to-storyboard comparison

Storyboards

FBI crime classification manual

Widescreen letterbox format
U.S.A SOUNDTRACK CD

I'm not impressed. but I like Howard Shore.
U.S.A NOVEL

 

just a USA novel (-.-)
KOREAN NOVEL

this korean version novel is much cooler than USA version!
includes very nice movie photos! I like that! must-have-item!

 
JAPANESE PAMPHLET

cool item for SOTL!! very nice pictures!

contents are

INTRODUCTION, STORY, CAST PROFILE, SAFF PROFILE
JODIE FOSTER, PRODUCTION NOTE, CREDIT
---
LINK
Hannibal Lecter Homepage
I like this site! tribute to Dr HANNIBAL LECTER!
very intersting SOTL site! including FAQ, SCRIPT, MULTIMEDIA!
Pictures, Links, Reviews and Sounds
The Silence of the Lambs. A collection of links.