Format

1.85:1, NTSC, Color, Stereo

Running Time

118min

Dubbing

Dolby Surround,
Dolby HiFi Sound,
Digital Sound,
Stereo Sound.

Subtitle

None

Code

1

Release Date

2003/July/1


The Criterion Collection,
a continuing series of classics
and important contemporary films,
presents
the silence of the lambs


Director:
Starring:






Jonathan Demme
Jodie Foster - Clarice Starling
Anthony Hopkins - Dr. Hannibal Lecter
Scott Glenn - Jack Crawford
Anthony Heald - Dr. Frederick Chilton
Ted Levine - Jame 'Buffalo Bill' Gumb
Package & Design


1/2 from





DDVD comes in regular amaray case.
and includes 4 page booklet inside.
Booklet has chapter title list
and Amy Taubin's review from Village Voice.
Also cast & credits.

and about the transfer.

To switch between menu and movie, use the MENU key on your remote. Use the ARROW keys to cycle through menu selections, Press ENTER/SELECT to activate the selection.
Screen


from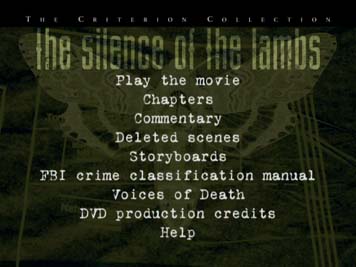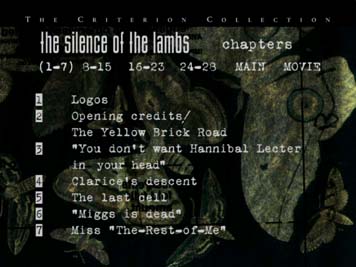 Menu design is not impressive at all, mmmm. worse than average. but anyway design is not the important thing.
They put bonus materials in main screen. also chapter has no picture at all. only txt.

Video




from






Video quality is very good. Just like Criterion their name level. Look at the big screenshots.


Jodie said that she had confidence in staring as acting. Staring in silence.




Lecter is listening Bach's Goldberg, after killing.

Subtitle BOMB from






No subtitle. This is the only defect that this edition has. Actually if u are not good at speaking english,
Commentary is also useless.

Special Feature




from





SPECIAL FEATURES
Audio commentary by director Jonathan Demme, actors Jodie Foster and
Anthony Hopkins, screenwriter Ted Tally, and FBI agent John Douglas.

Seven Deleted Scenes

Film-to-Storyboard Comparison

Storyboards

FBI Crime Classification Manual

Voices of Death: Word-for-Word Statements of Convicted Serial Killers.

Optimal Image Quality: RSDL Dual-Layerd Edition.
Criterion Special Edition comes with pretty interesting special bonus materials. Except deleted scenes, All others are exclusive.
This makes this edition valuable much. From now on, check out these!!
COMMENTARY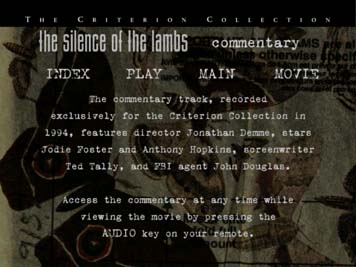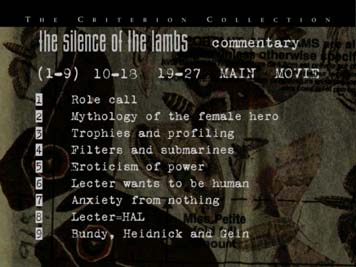 Exclusive commentary feat. Jonathan Demme, stars Jodie Foster, Anthony Hopkins, Ted Tally, John Douglas.
Although regular special edition of Silence of The Lambs got released, why people try to buy
Criterion version DVD? Paying premium price?
Answer is simple, Criterion includes this EXCLUSIVE COMMENTARY!
Very good commentary by Director, Actors, Screenwriter as well as FBI agent!
If U love this film, this one cannot be missed!
DELETED SCENES


In 'Yourself' storage, Clarice tries to open the door of the old car. and get frightened by something.


When Clarice visited Dr. Lecter after finding victim's head in the bottle, Lecter was watching TV.
Right picture at the top was captured from film. Other two pictures are taken from deleted scenes.
We can watch this preacher's speech (Full version) on TV. Pretty interesting.
This actor Jim Roche worked with jonathan demme. In 'Something Wild' too.


Clarice gets her gun, This is longer version. Not much impressive but still worth watching.

Total 7 deleted scenes are here.
Some of them are alternative scene.
Quality is very bad,
After this criterion special edition'd come out,
Silence of The Lambs (SPECIAL EDITION)
got released,
Those deleted scenes quailty is better.
But for many reasons,
Criterion did really good job here.
STORY BOARDS


Stoyboards include total 8 parts.


Film & Storyboard comparison.

Criterion put pretty many storyboards here.
Watching these illustrations are
pretty interesting.
Also comparing too.
Drawings from SNAPSHOT FROM HELL
were inspired by Francis Bacon (1561~1626).
So that famous horrible scene by lector
could be completed.
FBI CRIME CLASSIFICATION MANUAL & VOICES OF DEATH

These two bonus materials come with only TXT. No picture or video.
But if u are interested in checking psycho killers and their murders, These will help a lot.
Result




from






This Criterion edition is out of print. and being sold on auction site, around 39usd~59usd. New copy.
U can imagine why they are trying to get this dvd, paying much. Very nice edition with exclusive materials.
Well video quality is also great. Yeseule gives 4 stars out of 5. Below screenshot is DVD production credits.
U can read A very special thanks to Jonathan Demme, Jodie Foster, Anthony Hopkins, Ted Tally....
Well yes! They all recorded commentary together! for this edition. This means a lot.
Also criterion company is famous for their exclusive edition.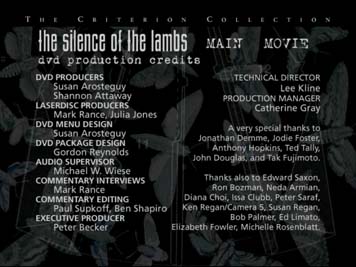 mini link : Criterion Collection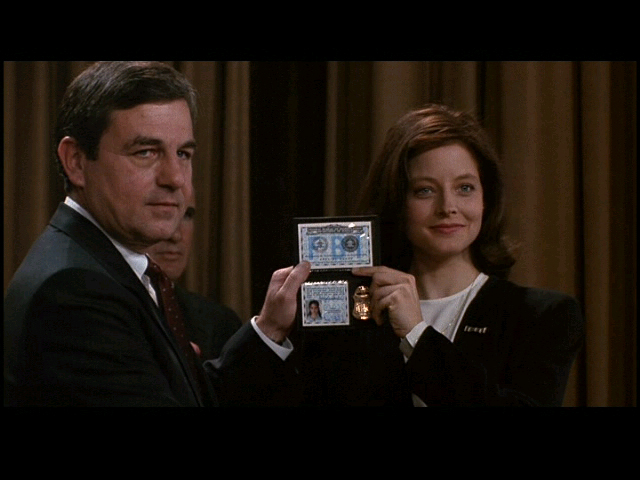 PS

If U wanna check video quality of this DVD, Find bigger screenshots.
These pics were captured by WinDVD with the best solution. Video quality of this DVD is pretty good.